A beautiful blue sky, sunshine October sky! Coolish but not jacket weather. Grandbaby boy had a doctor's appointment at a satellite facility near to his Grampy's work. Babymomma and I packed him up and headed off for a beautiful ride through gorgeous fall colors and beautiful homes, passing Louisa May Alcott's
Orchard House and Wayside, where the Alcotts lived for a time, and then Nathaniel Hawthorne.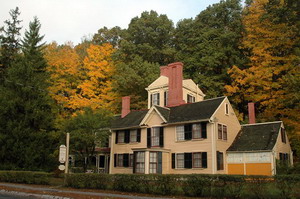 We met Grampy and coworkers for lunch and a visit and then headed off to Cardiology. I do not understand, in this day and age of computerized health records, why the need to fill out yet more forms when going to see a doctor you have seen multiple times before. A family history page where the babyMomma had to fill in her daughter's name and check the box marked
Deceased.
She just looked at me with such pain and said, "Really? Way to rub it in." An appointment with a different specialist last week caught a health worker off guard thinking Charlie was his sister, suddenly and remarkably off oxygen and looking so healthy! The babyMomma had the miserable task of letting him know the grandbaby girl had
passed away.
The appointment yesterday went quickly and without any hitches and things continue to look better, so one more 6 month follow-up and then he most likely will only need to be seen there once a year. We should have been ecstatic and overjoyed. Instead, I think we both had that twinge of ...not necessarily anger, but dismay, that grandbaby girl had to struggle so hard to live. Why did everything have to be so very hard for her???? We head to the lobby, and the babyMomma and Charlie wait on a bench. Charlie is laying down, kicking his legs and stretching before getting back into a car seat, diaper bag is in front of him as well as the babyMomma who is texting Dad to let him know how things went. A mom and her 8 year old daughter come in and as they go by, the mom says in an outdoor voice, "That baby is going to fall off the bench because his mommy is on her cell phone and not paying attention." More salt in a wound, more pain. I am thinking it was a God thing that I was not near by to hear because I would have let her have an ear full. I am wondering if I had been sitting with Charlie and on my phone if she would have made the same comment? If she only knew the life this babyMomma has lived these past 4 years. I have no pithy conclusion. Just a day that began with such promise, had to end in a cascade of hurt.